Today I am participating in the Big Reveal Blog Hop, unveiling my April Blogging from A to Z Challenge theme!
My husband recently presented me with a unique gift: a mint condition copy of Circus Magazine dated January 31st, 1985. It was a very sweet and thoughtful gesture, as the magazine's cover story featured the favorite band of my youth and brought back a ton of great memories.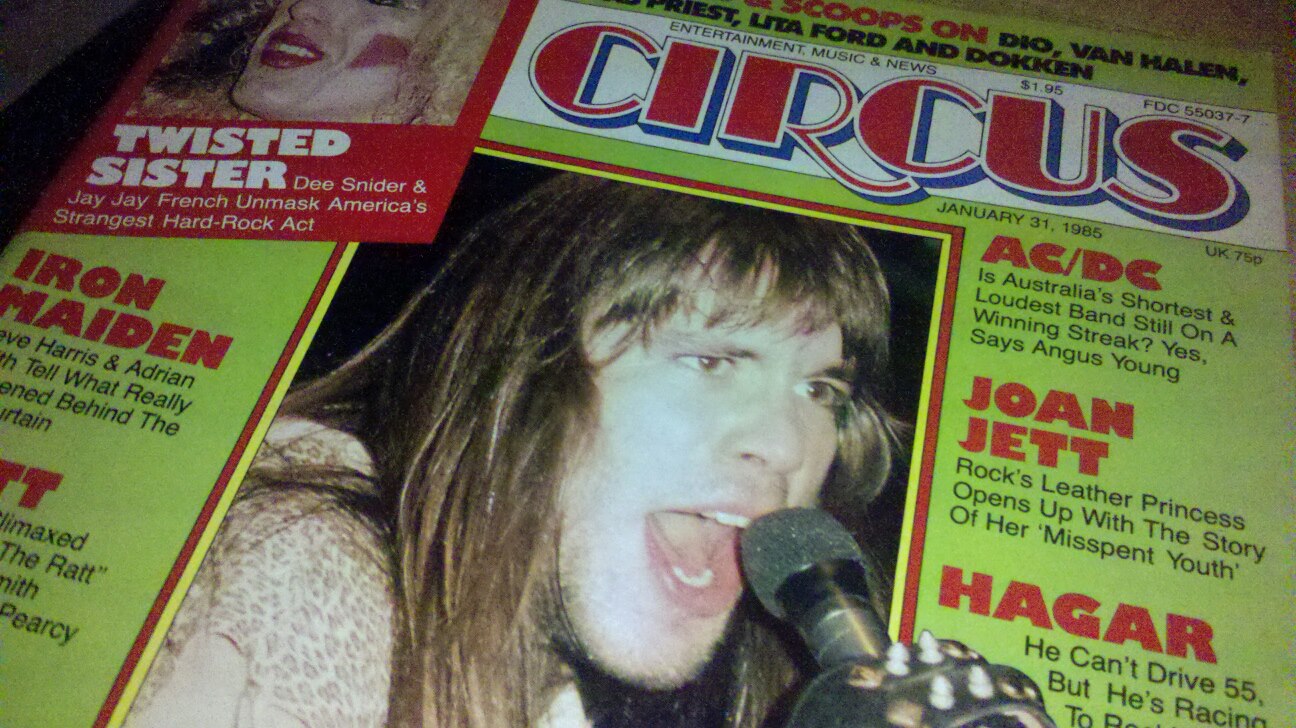 Instantly, I was transported back to fifteen years old. Standing in the aisle of my local drugstore DEVOURING every typewritten word: the articles, the concert announcements, the song lyrics. Hell, the advertisements! I'm pretty sure I read that very issue, cover-to-cover, while standing in the store. And then shelled out the $1.95 to bring it home, read it again, obsess over it, cut out all the pictures and plaster them on my bedroom walls. $1.95 was a small price to pay for a month's worth of music news. All new news, slowly revealed as I peeled back each page.
Now, 1985 isn't all that long ago, but it is light-years away when you consider how information, and music, is delivered. Music, um…it lives in a cloud now. Think about that for a second.  Thanks to the Internet, fans across the globe know a band's news before the band itself even knows it! Not only do the fans know it, they expect and DEMAND to know it. Album cover art?  We want to see it in hi-res before the album hits the streets. Tour dates? They should have been leaked yesterday. What Chris Cornell had for breakfast? Hashtag those hash browns!
Thanks to bands and artists using social media like Twitter, Facebook, and Instagram, we get instant gratification: a front row view at shows and a fly-on-the-wall peek into their daily lives. The minutia and the momentous is all being documented and disseminated in the blink of an eye.  And the fans are retweeting, "liking", and sharing at breakneck speed. It's almost eclipsed the music. Think I'm wrong? At the next concert you go to, look around you. 80% of people will be on their cell phones: texting, tweeting, taking photos and video. Everyone's trying to prove they are part of the experience but meanwhile, are they really enjoying the performance going on right under their noses?
It's overwhelming, really. So much cool stuff at our fingertips…but so much can slip by unnoticed. I've decided my A to Z theme will focus on some of the more unique ways of bringing the music to the fans…and the fans to the music. Alternate Avenues, if you will.
Circus is long-gone. Even Rolling Stone has become the incredible shrinking magazine.  The web has snared us all. We must use its power for good, not evil, to keep the music world alive. Throughout the month of April, I will handpick and highlight some of the cool things bands, charitable organizations, and even the fans themselves are doing to keep the music-fan connection strong.
Because the music living on a cloud thing is just a little too abstract for me to wrap my head around.
A big hopping thank you to Brits in the USA and Some Dark Romantic for hosting the Big Reveal!