Qué Pasa, folks – we've reached letter Q in the A to Z journey through the Music-Fan connection!
Wanna sleep with your favorite rockers?
I'm talking about swaddling yourself in all the warm-fuzzy memories and all those under-used but certainly not under-loved concert Ts, currently taking up prime real estate in your closet. Yeah, you can sell some of them on eBay for a mint. Or you can turn them into a kick-ass quilt.
Just running a quick Google image search on 'concert t-shirt' quilts yields a ton of crafty folks either selling their custom wares or showing off their talent and their vast t-shirt collections. I cannot vouch for or endorse any of these merchants, but I can say their concert t shirt quilts are like rock and roll eye candy to cuddle up with on a cold night!
Check out Ben Venom. He ain't stitching your grandma's kind of quilts!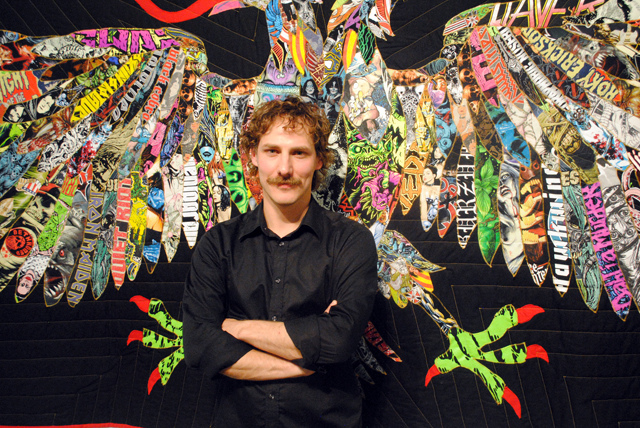 His work has appeared in galleries in the Bay Area and in Birmingham, England, and was the subject of an NPR segment. I am currently coveting #1 in his gallery…and #7. And his entire pillow collection. Check out this cool video of Ben's work.
Boo Davis runs her Quiltsrÿche studio with a loving hand and an iron fist. She claims she makes "modern heirloom quilts just like your metal-loving, half-blind Grandma would." Here's just one of her way-cool designs. Currently, she isn't taking custom orders, but some of her quilts are for sale on her site.
I'm thinking I gotta send my grandma back to quilt-school!