Wow, wow, WOW – we are almost there! Today I've got 2 very worthy rock and roll charitable endeavors to make you aware of:
The brainchild of former Relix owner/publisher Steve Bernstein and jewelry designer Hannah Garrison, wearyourmusic.org is a music merchandise company with a philanthropic and environmental vision. Their Artist Bracelet project showcases bracelets handcrafted upon order from recycled fine silver and used guitar strings donated by acclaimed musicians. Packaged in DVD cases with certificates of authenticity, 100% of net profits go to the artists' chosen charity.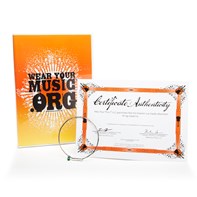 Here in the Fatboy home office, we ship out strings from the guys in moe. which Hannah and the Wear Your Music crew then weave into super-cool jewelry, with proceeds going to another great W-worthy cause, WHYhunger. Other artists on board are Eric Clapton, Carlos Santana, James Hetfield, Ziggy Marley, Ani DiFranco and others.
Rock and Wrap It Up! is an anti-poverty think tank. Using greening tactics, they recover food and other assets to agencies fighting poverty, increasing their operating budgets.
If you've ever been backstage at a rock concert, the food spread in the green room can run the gamut from chips and a case of beer to tables groaning under a Thanksgiving's feast weight of veggie platters and deli trays. Many venues will also provide a hot catered meal for band and crew, usually between sound check and doors. Rock and Wrap It Up! has partnered with over 150 bands that tour and include a stipulation in their contract requiring food that is prepared, but not served, not end up in a  landfill.
Check out this cool video of Rock and Wrap It Up! collecting leftover food during a concert at Roseland in New York City and the Bowery Mission receiving it.
The Rock and Wrap It Up! Program boxes up all prepared but untouched meals following rock concerts, sporting events and schools then delivers them to local food banks and charitable agencies.  Since its inception in 1991, Rock and Wrap It Up has:
Donated to over 43,000 shelters and places of need
Collaborated with 60 sports franchises, 150 bands, and 200 schools
Collected more than 250 million pounds of food
Fed more than 500 million people
How did this post start again? Oh yeah – wow, wow, WOW! What a wealth of info on two wildly inventive, wonderful and worthy causes!