I'm so psyched to be a tour stop for Amanda Usen as she celebrates her release of INTO THE FIRE! I've never had an author visit my blog's backstage green room, so I'm treating her like a total rock star today!
The tour bus didn't have to travel far – just to our favorite local tea cafe. We live in the same town, ya'll… how cool is that? We also share the same birth month, our wedding anniversaries are one day apart, and our two daughters share a birth month AND their names rhyme. Freaky coinky-dinks aside, there's a lot about Amanda I don't know, so I plied her with her favorite bubble drink (taro milk tea w/pearls) and interviewed her!
Since you're a trained chef as well as a writer, I have to ask you a "chicken or egg" question: do you usually come up with recipes first, and then work them into your books? Or do you need to have your characters and their stories simmering for a while before you dream up the perfect dish they need to create?
Wait…which is the chicken and which is the egg? Egg. I think I'm egg! I've been cooking for a long time, and all of my characters are in some way me. I'm writing, and I'm hungry. A scene comes up that needs a recipe, and I make a dish that fits the character's situation, is likely something I know how to make, and satisfies my own craving. Once in a while I'll dream up something I've never done before, and I'll have to do a test run before the book comes out to make sure it's good. The Chicken Alighieri dish in INTO THE FIRE was pulled out of thin air. Chicken, pumpkin, chiles…sounded good to me at the time! I had to cook it last week and write the recipe down – yum! Many of the recipes in my books can be found on my website, so if Lila gives you a craving for chocolate cake or Jack makes you want chimichurri, hightail it to http://www.amandausen.com and hook yourself up.
I've had your desserts – they are sinful and decadent, as is your writing! Sweet and satisfying, too. Now, your character Lila has 2 culinary school BFFs who are her long distance lifeline. Do you have similar relationships in your own life?
Dude – you're one of them! We meet for bubble tea, and my whole week gets better, you rock-and-roll zen guru of centered good nature. I call my high school BFF in L.A. when I need objective advice from someone who has known me for more than half my life. I call my neighborhood BFF Melissa when I need advice about raising pre-teens or have a yen for a cocktail at an inappropriate hour. For everything else, I call my husband, and thank all the gods for him. Sometimes I call my mom or my sister, too. And my in-laws! I am lucky to have lots of people to call when I need a lifeline, and I'm even luckier to not need one most of the time.
OK, that was a loaded question! LOL You always make my day when we hang out to chat or write together! Can you name one author who is the equivalent of "comfort food" for you, whose books you turn to time again and they never let you down? Why?
Nope. Can't. Clearly, I'm a compartmentalizer! But I can name several. Barbara O'Neal writes amazing women's fiction/romance with depth, heart, quirk, and emotion. She never lets me down. I will never forget sobbing through the last twenty pages of No Place Like Home, crying so hard I couldn't see, but I needed to finish it. I have several paranormal author favs: JR Ward, Thea Harrison, Darynda Jones. Sheer, sexy, kick-ass alpha fun. There's also this new chick on the block: Jessica Topper. *cue cheesy music* She's got a book coming out in September called LOUDER THAN LOVE, and I'm tempted to put one of those little clocks on my website to count down the days. She's gonna be big! Which reminds me I also love Tiffany Reisz's erotica. Her Original Sinners series is a-ma-zing! Hot and twisty.
*Blush* Can I hire you to be my publicist? OK, and now I have to ask: favorite comfort food?
Chocolate. And coffee is my happy place. (Because it would be wrong to say tequila.)
You and I once brainstormed our way down a muddy mountain in the rain together, discussing plot twists during the Dirty Girl 5K run. What other strange and unexpected places do you find inspiration?
Yoga! Yoga! Yoga! I love to work. If left to my own devices, I would work 16 hours and sleep 8 hours, every day of the week. Hello, burnout, I'm on my way! I struggle to find balance between work and life. Writing is work. Everything else is life, and it is those "life" moments that sustain and inspire the work. I wouldn't have jack to write about if I didn't cook, wrangle children, train for the Tough Mudder, do yoga, hang out with friends, read books for pleasure, and all the jazz of LIFE. Balance is crucial. I've wanted a tattoo for a long time, and since life didn't end at 40, I got one. A big old tree, a timeless symbol of balance, rooted in the ground, reaching for the sky. Life inspires me. And if all else fails, I go flat out on the kitchen floor to help me think. I don't know why, but that works for me. (Insert joke about my best thinking being done on my back.)
Hmm, no comment – except to say you've offered your kitchen floor and back to me in times of need and I am eternally grateful!
You write hot chefs so well but I have to ask: think we'll ever see a book with Ned (Jack's older, musician brother) featured?
Damn straight. He's had a friends-with-benefits relationship with Marie for twenty years. She wants more. I can't wait to bring him home, but I'm going to need a little help with the music part, okay?
*Swoon* I love a good read with a rock star: deal! Last question, since your pretty lilac-colored drink is almost gone. Name three things on your writing desk, right now (besides your computer)!
The pewter yoga figures you gave me for my birthday. A rock that says "spirit," also a birthday gift. Kleanspa, yuzu-scented hand lotion – you guessed it – another birthday gift. I am blessed with thoughtful friends!
And they – we – are lucky to have you! Thank you so much for stopping by – it's like having a VIP, All Access backstage pass-peek into a writer's life.
Thanks for having me on your blog today, Jess. You rock so hard! Let's do this again on my blog in September, okay? We can get LOUD. Really LOUD. Maybe even LOUDER THAN LOVE!
I can't wait! Till then, let's give readers a taste of INTO THE FIRE, and a chance to win some awesome schwag!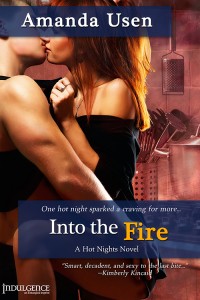 *     *     *    *    *    *    *    *    *    *    *    *    *    *    *    *    *    *    *
Jackson Calabrese has a lot of nerve. He beat Lila Grant in the Culinary Academy competition using her recipes. Now, he's opening a restaurant and wants her help? Fine, she'll fix his menu, but it's going to cost him.
Heir to the Calabrese restaurant empire, Jackson can buy anything he wants, except creativity, so he buys Lila's instead. He can craft perfect paella, but to take New York by storm he needs her innovative spark.
Skillets aren't the only things hot in the kitchen, and an uneasy truce ignites into passion. They're great in bed, but Jackson doesn't trust her, and Lila is contemplating revenge. The restaurant opening approaches, the menu is completed, and the tables are set for one final act of betrayal. How can love bloom in the midst of such a hot mess?
Title: Into the Fire
Author: Amanda Usen
Genre: Romance
Length: 201 pages
Release Date: June 10, 2013
Ebook ISBN: 978-1-62266-135-0
Imprint: Indulgence
Available NOW through:
Amanda Usen is offering winners a chance to at some wonderful prizes during the Into the Fire Blog Tour.
Grand prize: $25 gift card (Amazon, B&N, or The Book Despository) and gets to name Betsy's hero in Book 3 of the Hot Nights series & give him 1 author-approved trait".
Runner Up: $15 gift card (Amazon, B&N, or The Book Despository) and the chance to pick a dish to go into book three of the Hot Night series (Amanda will also share the recipe on her website).
Consolation Prizes: 5 random winners will get Amanda's favorite kitchen tool: a mini offset spatula
 Simply fill out the rafflecopter form provided below for your chance to be entered.
a Rafflecopter giveaway