Ommmmm \m/
Metal Yoga. Laugh if you will. Say it defies logic and must defeat the purpose. Call it the mother of all oxymorons. You know what I call it?
Freakin' awesome.
If you're any kind of music fan, you must know that thrill – you know, that chill you get the minute the lights go down and the hands go up? The roar of the crowd surrounding you in total blackness; the strange mixture of anticipation and dread for just a nanosecond before the stage explodes in light and sound and pure elation sets in? Yeah, that.
Arms raised strong to the sky, feet firmly planted beneath you, chin up, deep breath to prepare, your body zinging with dynamic tension: Are you standing in Mountain pose, or amid thousands of like-minded music fans as your favorite band is about to take the stage?
Can you recall that energy, that feeling of being part of the great, shifting sea around you, yet at the same time, feeling totally at one within your own self? Whether you are singing at the top of your lungs along with the band, or just screaming along with the words in your own head, you are totally present and accounted for, yet having an out-of-body euphoric experience at the same time.
Yoga, like great music, does all that to me, too. But until I attended a Metal Yoga class run by Neda Draupadi Honarvar at her Tough Love Yoga studio in Atlanta, I had never combined the two.
Worlds collided on a stormy summer evening, when my friend Amanda and I played hooky from our writers' conference and jumped on the MARTA to seek out Neda and her unique brand of yoga. As writers, Amanda and I have different styles, different processes. Our music tastes differ (she's a little bit of country, I'm a little bit of rock and roll, as the Osmonds would say) and although we live in the same city, we practice yoga in different studios. But we were both excited for the hour that awaited us at Tough Love.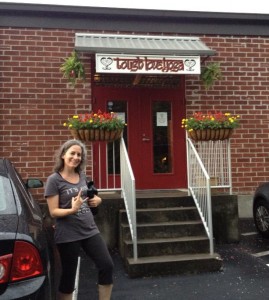 (Flashing a relieved smile and a grateful horns up upon safe arrival at Cobraville. Lightning was crazy flashing in the sky and Siri tried to get us shanked by sending us in the total wrong direction on foot.)
Neda was very cool and welcoming, and had kindly honored my request to play Iron Maiden as the featured band. This was beyond special for me. I've seen Iron Maiden play live in four different countries (yes, Canada counts), in over a dozen cities, more times than I can count on my fingers AND toes. In yoga, we are told to breathe and release any thoughts that do not serve us. If any band has ever provided that kind of release for me, it's Iron Maiden.
It's true when you get in the zone, you tend to tune out the music and focus on your practice. Amanda, who had never listened to Iron Maiden before the class, said she barely noticed the music. I wish I could remember the entire playlist and what poses we held to which tune, but honestly, the entire experience just blended beautifully for me. I know we listened to almost the entire Number of the Beast album, lots of Piece of Mind, a smattering from Somewhere in Time and from my favorite album, Powerslave. There was one well-placed, early Di'Anno-era tune in there as well.
After living and breathing the songs for thirty years of my life, it's music that I could sing in my sleep, residing deep and ever-present within my memory and experiences. I really didn't 'hear' it either, but I felt it, and the realization would break through occasionally. Like the incredible feeling of accomplishment in holding high lunge, while Bruce held those long notes in 'Hallowed Be Thy Name.' Or being able to lift my eyes skyward while balancing in tree pose as the chorus of 'Wasted Years', always a cathartic song for me, was blaring.
At one point, Neda had rolled up the large, glass garage door to let a bit of night air into the studio. The air conditioning had conked out earlier in the day, giving new meaning to hot yoga – we were in Hotlanta, after all! A hint of a breeze blew in while the rain continued to pound down. The room took on a bluish cast, and thunder would occasionally rumble like a stack of Marshall amps from above as flashpots of lightning lit the sky as bright as any stage pyrotechnic.  I glimpsed the tops of the trees; their swaying branches comically reminiscent to the way Dave Murray and Adrian Smith swing their guitar necks on stage in unison.  The 100-watt chorus of cicada bugs outside provided the perfect background soundtrack as 'Fear of the Dark' fittingly played inside. Nature was headbanging along with us.
We moved into Savasana, the final relaxation, to the haunting, creaking boat sounds of 'Rime of the Ancient Mariner.' Clocking in at over thirteen minutes long, it was a perfect song to end our practice…although Neda did pause it midway to speak gently to us before we took the rest of 'corpse pose' in silence. As she guided us through Savasana, I especially loved when she brought to our awareness the solid floor beneath us, supporting us as we moved through our regular lives. Because sometimes it is tough to let go of the little things, even when you have an outlet – like writing, or yoga, or music – to turn to. It was a wonderful metaphor for the support we receive from friends and family that we need to be mindful of, grateful for, and open to.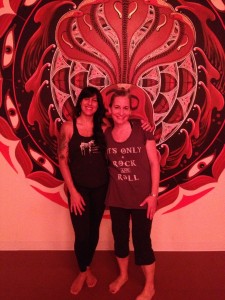 (Posing with the lovely Neda in front of her awesome cobra wall at Tough Love Yoga. )
A big thank you to Neda for guiding our out-of-town yoga practice and safe passage back to our hotel – it was a great hour spent in great company, to great tunes! And I am grateful to Amanda for being my partner in crime and venturing out with me. And as always, a round of applause to Maiden, for the music.
What music guides you on your journey?