Call it a book birthday or an author anniversary: Louder Than Love is celebrating one year out in the world today!

Be sure to "dig" out your favorite band T-shirt, set your rock playlist to repeat and click the pic above to visit the birthday bash being thrown by Expressions of a Hopeful Romantic! Enter to win gift cards, rock swag and e-copies of Louder Than Love!
A lot has happened since I launched the book of my heart into the world. I've been contracted to write three more books, as well as a novella and truth be told: I am tired. Blissfully, happily exhausted. I've been wrestling with submission, editing and proofing deadlines all summer, along with the other non-writing-related happenings in life. In fact, I looked at my calendar last week and thought…hmm, September 17th sounds familiar. Do I have an appointment scheduled that day? The dentist, perhaps?
Then it hit me.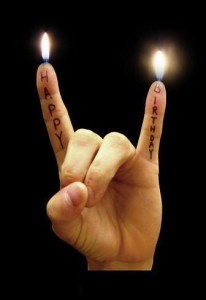 Horns and candles for LOUDER THAN LOVE
Luckily, I have some awesome and loyal readers who have kept the fire burning on this rock and roll love story. Elizabeth over at Expressions of a Hopeful Romantic blog,  generously offered to throw a birthday bash, complete with excerpts and great giveaways! She was one of the first bloggers to interview me on the eve of my release, and has since featured an character interview with Adrian, which was tons of fun! (Caution: may contain spoilers if you haven't read the book.)
Thanks, Elizabeth – you rock!
I continue to be amazed by the reader response, worldwide, for this book. I love to hear from fans, see the graphics and GIFs they were inspired to make, and to field questions about the characters. Some of my favorites have been:
Are Kat and Adrian still together?
Have they gotten married?
Had a child?
Did Liz and Kevin hook up?
Is the band back together?
I am happy to report I've been working on SOFTER THAN STEEL, a follow-up companion novel, which will feature several of the same characters, as well as some new blood. Keep an eye on your e-readers, folks, as it will be out next fall!
In the meantime, if you have a question about LOUDER THAN LOVE, feel free to shoot me a question over at my ASK THE AUTHOR page on Goodreads.
Thank you for embracing my debut novel of love, loss and rock & roll. It's truly been a dream come true.