Happy New Year, cats and kittens. This is a big one for me. My first print novel has officially hit the shelves!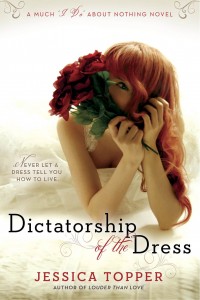 Dictatorship of the Dress is a new twist on boy-meets-girl. Told in first person, alternating points of view, it follows two travelers over the span of five days. It's a story of missed flights, of second chances…of Magic 8 Balls and Pez dispensers, asparagus and bad Japanese monster movies. It's about wearing flip flops in the snow and collecting Elvis impersonators as you go. And hanging on to your dreams and letting go of grudges. It's the best of Chicago and Vegas and Hawaii, and seats 3A and 3B on a fateful flight.
It may just be the best layover you've ever had.
"Riveting and pitch-perfect…Topper's tale of loss and love is a winner." – Publishers Weekly
"Laney and Noah are unique, likable characters worth rooting for" – Kirkus Reviews
"Lightning-quick and full of surprising humor…refreshingly daring" – RT Book Reviews