I absolutely adore the cover of Dictatorship of the Dress, and I am not just saying that because the book contains my words! Every once in a while, a cover just perfectly embodies the tone of the story. And expresses exactly what the lucky author was hoping for. I am thrilled and thankful that the "cover gods" smiled down upon me and this particular novel.
Well, the librarian in me is always trawling the web for interesting material, and I did a little sleuthing to find more photos from this particular photo shoot, because the original image utterly fascinates me. Aren't the results breathtaking? There's something just so stark and stunning about them. I feel like I could write two more stories about Laney Hudson, based on these alternative views alone:
Which do you prefer?
And of course, this is the finished product, the final photo the staff in my publisher's art department went with: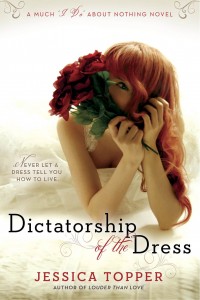 This, to me, is Laney Jane Hudson, the heroine of Dictatorship of the Dress. While there's something so playful about the look in her eye, there is a lot that is hidden from view. Which is exactly what you learn about Laney when you read the story.
Currently, the cover is up for January's Best Book Cover of the Month over at RT Book Reviews, and you can cast your vote through the end of the month!
But what do you think of the alternative views? I'd love to hear from you!