Happy 4th Anniversary to The Romance Reviews! I'm pleased to be part of their month-long celebration this March, and will be giving away a SIGNED copy of Dictatorship of the Dress in a fun Q&A game!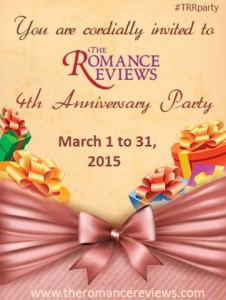 For a chance to win, you must correctly answer the March 16th Q&A about Laney from Dictatorship of the Dress on The Romance Reviews site. The hint will be in an exclusive excerpt from the book revealed that day, so stay tuned! But check out TRR site all through the month of March to win other great prizes and books, too.
Best of luck and happy reading!