It's been a wild week since Softer Than Steel released! I confessed Why I Write Rockers over on the lovely Maryse's Book Blog, and answered Joyce Lamb's famed 5 Questions over on the USA Today HEA Blog, and my characters Riff & Sidra got to spin their favorite tunes over on Ever After Book Reviews.
And the fun isn't over yet! This week, the Love & Steel gang is ready to rock and roll on its biggest tour ever. Excerpts, guest posts, giveaways and fun extras await!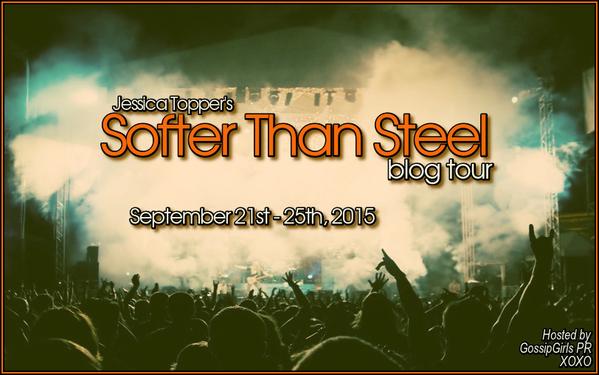 Consider yourself on the VIP guest list for the following tour stops:
SEPTEMBER 21
BookHounds (GIVEAWAY)
babbling about books and more
Unused Napkin
EBookObsessed
SEPTEMBER 22
Dirty Girl Romance – CHARACTER INTERVIEW
Wild Wordy Women
Slut Sistas Book Blog
SEPTEMBER 23
Lili's Books
TeriLyn Reviews
The Rock of Pages
SEPTEMBER 24
Writer.Chef.Romantic.
Jxxx Pink Lady
Badass Bloggettes
Nerd Girl Official
Smut Book Junkie Reviews
SEPTEMBER 25
Alleskelle Blogs
Dirty Girl Romance
Read more sleep less
Joyfully Reviewed
SSP
KT Book Reviews
Sexy Bibliophiles
Crazies R Us Book Blog
STAY TUNED FOR MORE INFO!
A huge thank you to all of the blogs for hosting, and to Gossip Girls PR for coordinating – and most of all, thanks to all the readers out there who have devoured and loved the book so far!