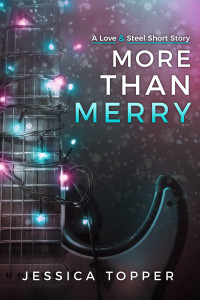 More Than Merry

– FREE HOLIDAY SHORT STORY!
In the spirit of the holidays, I'm giving away MORE THAN MERRY, a Love & Steel Short Story, to subscribers of my newsletter. You can sign up now and be one of the first to receive it for free!
Join Adrian, Kat and Abbey as they prepare for the holidays…and so much more! Perfect for fans of LOUDER THAN LOVE!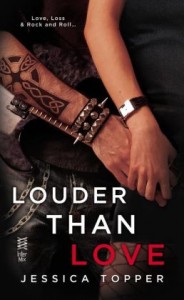 Louder Than Love – Love & Steel #1

– September 17, 2013
Publisher: Penguin Group (USA)
Imprint: Berkley/InterMix
ISBN: 9781101634790
In this powerful debut novel, a young librarian grieves the loss of her husband…and discovers a love that defies classification.
It's been over three years since a train accident made a widow of Katrina Lewis, sending her and her young daughter Abbey back to the suburban town of her youth…the only place that still makes sense. Lauder Lake is the perfect place to hide and heal.
Recluse rocker Adrian "Digger" Graves survived the implosion of his music career, but his muse has long lain dormant. Until Kat hires him to play at her library—not on the basis of his hard rock credentials but rather, because of the obscure kids' TV jingle he wrote years ago. In a case of mistaken identity, Adrian stumbles into the lives of Kat and her comically lovable daughter.
Using tattoos as a timeline, Adrian unfurls his life for Kat. But as the courtship intensifies, it's unclear whose past looms larger: the widow's or the rocker's. Will their demons ever rest, or will they break these soul mates apart?
LOUDER THAN LOVE e-book can be ordered from: Amazon
| BN.com
| iBooks
| Google Books
| Kobo
| BAM  | Penguin

Also Available Internationally:
Amazon UK
Amazon Canada
Amazon Spain
Amazon Germany
Amazon Mexico
Amazon Brazil
Amazon Japan
Amazon Italy
Amazon India
Amazon France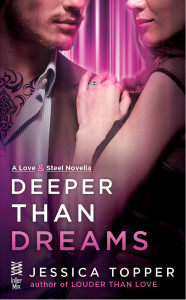 Deeper Than Dreams – Love & Steel #1.5
  – August 18, 2015 Publisher: Penguin Group (USA) Imprint: Berkley/InterMix ISBN: 9780698192263
Will wedding bells rock out for Louder Than Love's most beloved couple in this Love and Steel novella?
      Falling in love with rock star Adrian "Digger" Graves was a dream come true for former librarian Kat Lewis. But with a little help from friends and family—including Kat's adorable daughter, Abbey—Adrian has planned an evening and a proposal beyond her wildest dreams. The night before, Kat witnessed the triumphant reunion of Adrian's rock band at Madison Square Garden. Tonight, he will escort her to the elegant, ultra-exclusive Library Lion's benefit. It seems like a fairytale, but even fairytales have a deeper, darker side. When old habits return to tempt her knight in shining heavy metal armor, will Kat's happily ever after come crashing back to reality? DEEPER THAN DREAMS e-book can be ordered from:
Amazon
|
BN.com
|
iBooks
|
Google Books
|
Kobo
|
BAM
  |
Penguin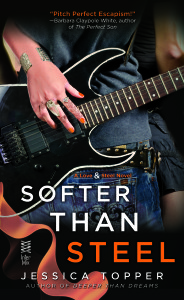 Softer Than Steel – Love & Steel #2
– September 15, 2015
Publisher: Penguin Group (USA) Imprint: Berkley/InterMix ISBN:9780698192287
From the author of Deeper than Dreams and the Much "I Do" About Nothing novels, a story that proves that you have to find yourself before you can find love…
Under the liberating guise of his alter ego 'Riff Rotten', Rick Rottenberg has circled the globe playing sold-out shows and sampling the universal delights that fame and fortune allow a rock star of his caliber. But he can no longer ignore the panic attacks plaguing him with increasing regularity. Not knowing where else to turn, Rick finds himself turning a doorknob – entering not only into the spiritual world of yoga, but into a retro world of rock music he had long abandoned as well. Revolve Records reminds him of why he picked up a guitar in the first place, and he hopes that Evolve Yoga – and its sexy owner – will help him forget everything else.
Swearing off musicians has been Sidra Sullivan's mantra ever since a charismatic singer with a bad case of LSD (Lead Singer Disease) blocked her chakras and closed off her heart. The last thing she wants is another huge ego in tight pants hanging around, consuming her time and attention. But when Rick makes an offer to save her family's historic Lower East Side building in exchange for her help, she begrudgingly makes an exception.
As she works him up to more challenging poses, he begins to wear down her walls of protection, challenging her to see him in a different light. She, in turn, teaches the steeled, seasoned rock warrior to soften his stance and find strength from within. But when a rock and roll power play threatens to disrupt the delicate balance that has grown between them, Sidra must decide whether to follow her head and fight, or to open her heart and fly.
SOFTER THAN STEEL e-book can be pre-ordered from: Amazon
| BN.com
| iBooks
| Google Books
| Kobo
| BAM | Penguin