In celebration of next month's release of Courtship of the Cake, the second book in my "Much 'I Do' About Nothing series, I'm excited to share a first look! Rather than a first chapter excerpt, I thought I'd share the exact moments when the hero and heroine first see each other.
Mick is hanging out on a street corner with his fellow waitstaff on break, in the French Quarter of New Orleans, watching a bridal party and its wedding guests dance past in a Second Line Parade:
 MICK:
We passed the flask and watched as clusters of wedding guests moved past, self-consciously waving handkerchiefs and shuffling. Sure enough, they were wilting in the sultry heat like true Northerners.
Save for one.
She was smack in the middle of the bridal processional, shimmying all the things God gave her. The tumble of wild, white-blond curls caught the late-day sun like a cascading blaze as she twirled in her bridesmaid dress and stepped high to the beat of the big bass drum. She shook her white handkerchief with abandon, one slim arm raised to the sky as the other snaked smoothly out to catch the crooked elbow offered by old Derek. Around and around they went, swinging in a fun and frenzied dance, until she broke off, blowing him a kiss and laughing as she continued down the street.
"Now that you don't see every day." Eddie blew out a breath, hypnotized. Derek was still clapping and laughing, doing a little jig in the street as it emptied.
"Seriously." My bow tie was in my hand. "Cover for me?" In some kind of trance of my own, I also shed my penguin coat, tossing both to Eddie and running to catch up with the parade before I even had time to consider what I was doing.
I had to find out who the girl in the emerald dress was.
Actually, it was more like an absinthe green; I had been mixing icing colors in my aunt and uncle's bakery since the tender age of thirteen and learned there were more hues of color out there in the world than there were moods. I had the feeling that, like the drink, just a taste of that girl would intoxicate me. You could tell her spirit was potent.
"You got this, my boy!" Derek called after me. "Jump in the line!"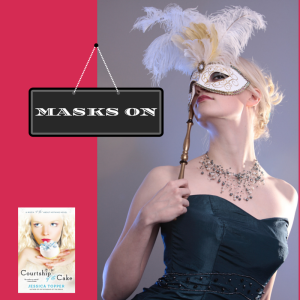 DANI:
A second line parade had led us through the quaint French Quarter from ceremony to reception, where a sign commanding MASKS ON ushered us past a red velvet curtain. The large space had crumbling stonework, wrought iron balconies, and a soaring whisper dome. I remembered the way everything transformed the moment I tied the ribbon to secure my gold mask with its black feather plumes and stepped in. The air felt electric.
And it crackled when Mick had walked into the room.
His mask of choice had concealed the top half of his face, and its long, hooked nose and slit eyes had a sinister, eerie quality. But the way he bit back a smile from his full lips was utterly disarming, and I liked the way his hair tufted over the top of the mask, almost as dark as the black mask itself, with its gold scrolling detail.
Feeling bold behind the cover of my own disguise, I strode to the center of the floor just to see what he would do. Within seconds, he joined me there.
"Once upon a time, women who wore masks had their reputation questioned, you know."
My cheeks heated beneath my mask, and I dropped my gaze demurely. I had a feeling if I wasn't careful, I would let him ask me just about anything. Those eyes of his were powerful truth serum.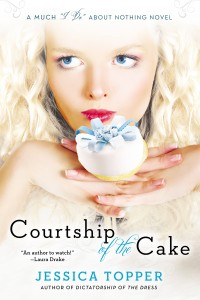 I hope you enjoyed this sneak peek at Dani, Mick and Courtship of the Cake! You can read more about it here. And if you are on Goodreads, check out my limited time, signed ARC giveaway!