One month to go until LOUDER THAN LOVE hits e-readers! Here's a snippet of the chapter where Katrina and Adrian first meet. I love this scene in the library because it gives the reader a little taste of Adrian without giving too much away.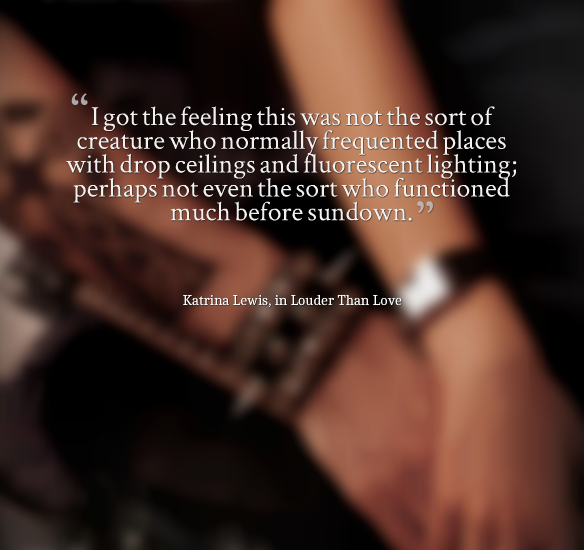 "I bet he thinks one of those old biddies at the desk is you!" Leanna giggled. I took a moment to size him up. Not particularly tall, but of slim stature. His dark blondish hair, at least from my view, was somewhat raggedy, but perfectly respectable for a musician. He was wearing a black button down styled after an old-school tux shirt, with thin ruffles running down the front. His jeans were dark wash and looked expensive. I suddenly felt small-town and shoddy. I wished I had thought to pluck my eyebrows and give my chipped toenails a fresh coat of polish.
The clerks were gesturing and pointing toward the programming room. "Oh, but wait, here she comes now," Amelda announced as I hastily approached. He turned, displaying a face much more weathered than I had initially noticed from afar. Tiny wrinkles fanned from the outer corners of his eyes, and his hair had quite a bit of gray streaking through the blond, especially at his sideburns. For some reason, I had anticipated him being younger than me. I recovered quickly, sticking out my hand.
"I'm Katrina Lewis, thanks for coming."
"Lew?"
"No, Lewis."
"No, I mean . . . do you 'ave a loo?" His watery blue eyes widened to stress the urgency of the situation. "I'm afraid I'll burst if I don't go for a slash."
"Oh . . . yeah, down that hall." It took me a moment to register his accent and his slang, yet my embarrassment over the situation was fairly immediate. I stood rooted to the spot after he thrust his guitar into my hands and rushed off. Leanna was still standing there, a witness to the whole encounter. "He's . . . um . . ." I searched for the right words.
"Old? British? Drunk? Or D) all of the above?"
"He's older . . . but he's kinda cute," I admitted, surprising myself. "Come on, drunk? It's four in the afternoon at the public library! Please. Go get a seat. I'll be in there in a minute."
I waited at the end of the hall for my charge. After a moment, he came out of the bathroom, swaying slightly into the wall as he pulled a tin of mints out of his pocket. "Altoid?" he offered. The smell of Jack Daniel's and his peppery cologne, which was somehow subtle and intense all at once, were noticeably foreign to the hallowed halls of my local library. I got the feeling this was not the sort of creature who normally frequented places with drop ceilings and fluorescent lighting; perhaps not even the sort who functioned much before sundown.
"You are drunk."
"And you"—he popped two of the curiously strong mints into his mouth—"are beautiful."
"Jesus Christ."
"I'll sober up soon . . . and hopefully, you will still be beautiful." He grabbed back his guitar with a smile. "Are the throngs of screaming adoring masses here yet?"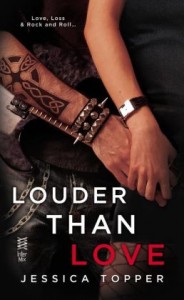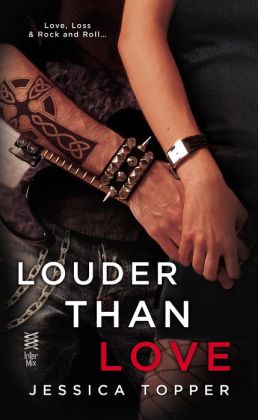 I hope you enjoyed this exclusive Louder Than Love excerpt!
Order a copy of your own in digital format:
Amazon
Sorry, this title is not currently available in printed formats. Be sure to subscribe via email below, and Jessica will keep you updated!