NEW BOOK NEWS!
I'm pleased to announce I have a new two-book deal with Berkley! Dictatorship of the Dress, the first in my contemporary romance wedding series, will release in 2015 in trade paper and digital. Stay tuned for more details!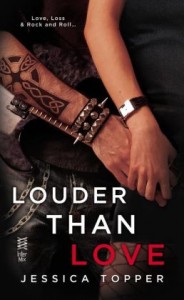 Louder Than Love
– September 17, 2013
Publisher: Penguin Group (USA)
Imprint: Berkley/InterMix
ISBN: 9781101634790
In this powerful debut novel, a young librarian grieves the loss of her husband…and discovers a love that defies classification.
It's been over three years since a train accident made a widow of Katrina Lewis, sending her and her young daughter Abbey back to the suburban town of her youth…the only place that still makes sense. Lauder Lake is the perfect place to hide and heal.
Recluse rocker Adrian "Digger" Graves survived the implosion of his music career, but his muse has long lain dormant. Until Kat hires him to play at her library—not on the basis of his hard rock credentials but rather, because of the obscure kids' TV jingle he wrote years ago. In a case of mistaken identity, Adrian stumbles into the lives of Kat and her comically lovable daughter.
Using tattoos as a timeline, Adrian unfurls his life for Kat. But as the courtship intensifies, it's unclear whose past looms larger: the widow's or the rocker's. Will their demons ever rest, or will they break these soul mates apart?
LOUDER THAN LOVE e-book can be ordered from:

Also Available Internationally:
Amazon UK
Amazon Canada
Amazon Spain
Amazon Germany
Amazon Mexico
Amazon Brazil
Amazon Japan
Amazon Italy
Amazon India
Amazon France